What are the layout options ? - Web Version
When creating your report, you can choose between various layout options to save and print your personalized report.
Display list of points: you can display them without plans or pictures, with plans and location, with plans and pictures or only with plans. You can also choose to display the subject in one line to gain some space.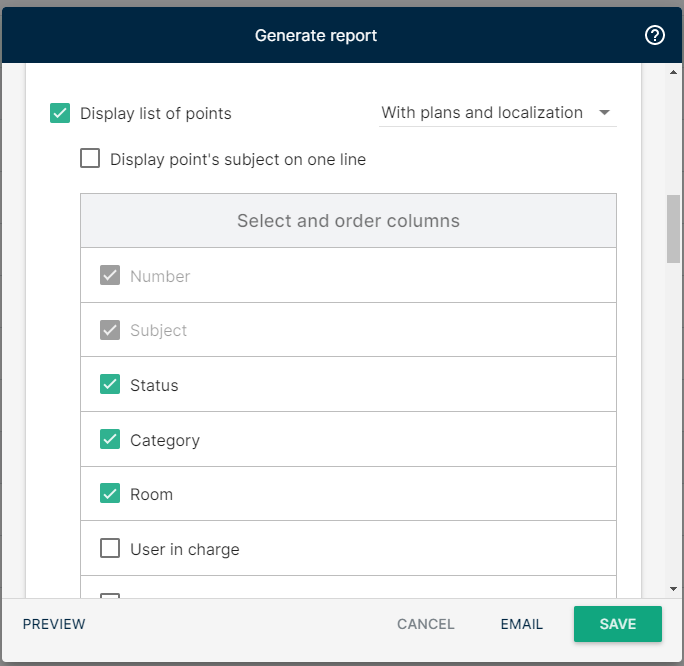 The different columns in the list of points: After ticking the Display list of points option, you can then choose which columns you want to see in your report by ticking them. You can choose to display the following columns: point's number, subject, status, category, room, person in charge, due date, date of creation, author, attachments (this will tell you whether or not there are attachments), important and the name of the list in which the point(s) can be found.
You can also choose the order in which you wish to display the columns by dragging & dropping them (using the two horizontal bars as shown on the printscreen above). You should tick the columns first to activate them (the box becomes green) and you will then be able to move them up to your convenience.
The boxes next to Number and Subject are grey because these are automatically displayed on all reports.
Example of configuration of the List of points:

Preview of points with point numbers
Preview of plans with drawings

(drawings are annotation you make on a plan; please note that a pin used to locate a point on a plan is also considered as a drawing)

Display point details

(Only with pictures, with plans and pictures, with plans and location, without plans nor pictures):

you can choose to display the pictures in A5 format and/or to print one point per page and/or display the creation date.
Example of configuration of the Point details: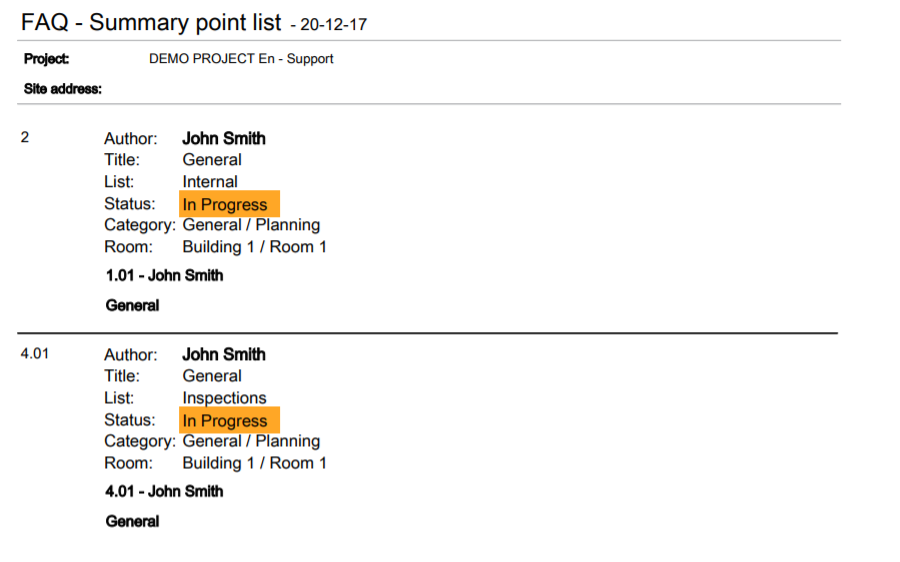 Include archived points
Join Excel file: by ticking this option, an Excel file containing all the points or only the selected points - according to what you chose - will be added to the LetsBuild report. You can also click on Download on the right to save the Excel file of the points in your computer's downloads folder. The pictures and documents attached to the points are not included in this file

Join original plan(s) (PDF format)
You can choose to hide the pictures' date and time
Display author information: you can choose between name, role and company
You can add a cover page which you can upload from your desktop by clicking on the upload-button

You can also insert additional information in the report by ticking the option before inputting text

Got a problem? Contact our support
or ask your questions online directly on the app.
---
---