Import a Programme
After creating a new project, one of the options to start building your project is to import an existing programme file.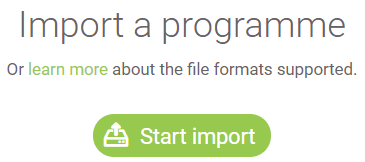 Currently, we allow you to import files from these planning tools:
You can also import a CSV/Excel file. This will allow you to create a project based off an existing task list. It is also an easy way to build a project from scratch. To learn more about this method, read this article.


Importing from MS Project, Asta, Primavera
We currently support the following file types: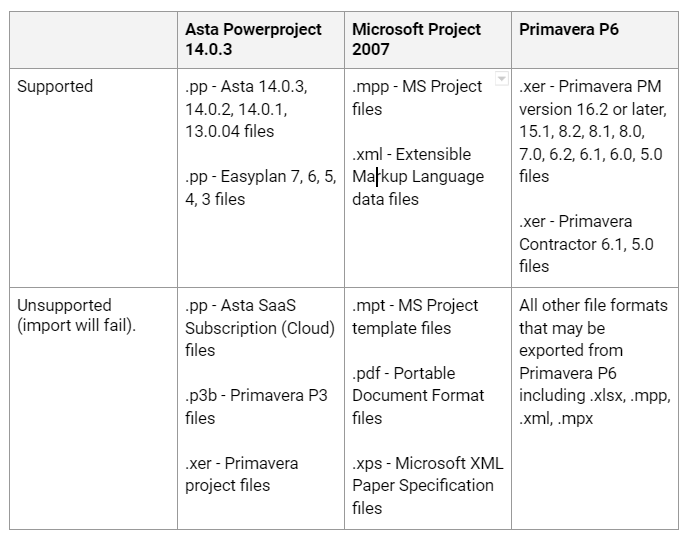 What data is imported into Geniebelt?
When we import your file, we only focus on the basic information provided so you are able to invite and assign tasks with your team and begin to collaborate around your plan.
To start, Geniebelt will import the Group and Task structure. We will also pull the Task Name, Task ID, Start/Finish Dates and Progress Percent.
Dependencies: We currently only support Finish to Start dependencies. By default we will ignore all other dependencies, but we do give you the option to import these other dependencies. In these cases, though, we convert them Finish to Start upon import to Geniebelt. It is recommended to only import the Finish to Start dependencies.
Scheduling: All tasks will be imported as Manually scheduled, regardless of their state within your file.
Assignees: We will invite and assign Geniebelt tasks if an email is present in the assignee field of your imported file.
Below are task features that are modified when they are imported into Geniebelt.

Below is information that is not supported by Geniebelt. These data types are ignored when imported into Geniebelt:
Baseline
Critical path
Task durations
Calendar/Working Week
Resources

Reimporting your Project File
If you will continue to use your other software for ongoing project management in parallel with your Geniebelt project, you will want to periodically reimport your project file to synchronise and reflect these changes in your Geniebelt project.
To utilize our Reimport feature, you will need to maintain the original file you imported so we can properly match the updated file with the Geniebelt project.
To learn more about Reimport, read this article.
---
---